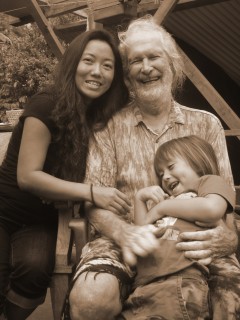 Terry Fitzgerald was born and grew up in Canada, graduated from Michigan Tech, and worked for mining companies for over 10 years as a geophysical engineer. In the 1970's, on his way to New Zealand seeking a piece of paradise, he stopped in Hawaii and found an overgrown coffee farm on four acres in the rain forest of Honaunau, and never left. With hard work and the help and advice of some of the original surviving old time Japanese coffee farmers, he restored the coffee farm to working order, even though people thought he was crazy at the time. His passion and positive vision for the future of Kona coffee played a key role in reviving the industry, and he almost single-handedly created the emergence of estate grown coffee brands. In 1997 his diligence and dedication was rewarded and recognized when he won the treasured Gevalia Cup for the finest estate grown coffee. Terry is proud of his role in the history of the Kona coffee industry, and he farms his four acres of paradise with the same dedication and commitment that he showed some 40 years ago when he stumbled across an overgrown coffee farm and changed the face and future of Kona Coffee.
"You're never too old to find your love" is one of Terry's mottos. With that open heart attitude, Terry and Susan met in 2000, on his first trip to Yunnan, China. They got married in 2003, and their child Sonny was born in 2005, bringing immeasurable joy and happiness into their lives. Like a true life fairy tale, they are living happily ever after.
Terry and Susan are very down to earth, close to nature, and appreciate the joy and freedom of their daily life in the paradise that is Honaunau. Working together they treasure their 4 acres of coffee farm and the life it gives them, and they produce a stellar, unique, superior product, grown, nurtured, picked, dried, raked, packaged and marketed with their own hands, direct from the farmer to the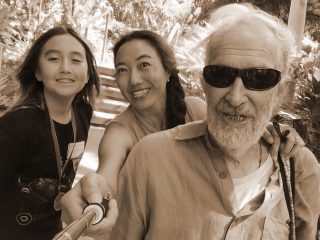 consumer. Their customers are found all across the United Stated and abroad, loyal believers in the life they live and the product they create, who order their coffee regularly as much to connect with the idea of the life they live as to consume some of the finest coffee on the planet. Their coffee business has brought a lot of good people into their lives, who have become lifetime friends. It is a highlight of their existence as a Kona coffee farmer to take their passion for something they love, and make it a part of a greater circle of friends who love and appreciate who they are and what they do. They are a very unique couple.