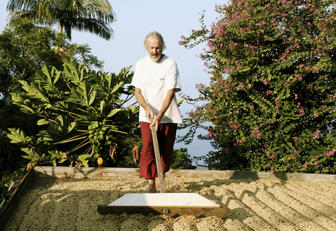 By Joel Berliner
The Washington Times.    April 15, 2006
Kona coffee growers follow their dreams, maintaining way of life in changing world
Honaunau, Hawaii
South of Kona, on Hawaii, the Big Island, a stretch of land harks back to a Hawaii of a different time. Towns have remained largely unchanged for 50 years; the land is largely unsullied; and the changed that have engulfed the island farther north have yet to dent the way of life.
This in many ways is the Hawaii of your dreams. You hope it exists but don't really believe it's still there in a meaningful fashion. Rest assured, it is. You just have to look for it in one of the most beautiful, unspoiled regions in the Hawaiian Islands.
If you can embrace the simplicity of its charms and vibrant culture and see the struggle to maintain a way of life in a changing world, the gentle sloped south of Kona can provide an eye-opening experience.
Coffee has been grown in Kona for more than 100 years. Originally it was the province of Japanese laborers who had completed their indentured servitude and were seeking some means of self-sufficiency in an economy dominated by ranchers and sugar planters.
The coffee crash of 1899 left large coffee plantations in disarray. Seizing the opportunity, hundreds of Japanese farmers leased 3- to 5-acre plots. Beginning in the hill town of Holualoa high above Kailua Bay, a community of family coffee growers sold their coffee cherry to the dominant mill of the time.
Coffee growing spread into the lowlands and down the coast, to Kealakekua, and farther south to the sweltering rain forest of Honaunau. More than 600 coffee farms are spread out along a swath of land two miles wide and 25 miles long on the slopes of the active volcanoes Hualalai and Mauna Kea, at an elevation between 500 and 2,500 feet. Now 150 estate coffee farms grow, harvest and market their single-vineyard coffees as unique, hand-crafted quality products.
California has its Napa and Sonoma wine country, where small chateaus and artisan winemakers work with the finest fruit of their fabled grapes. The chateaus of Honaunau create a product that has turned these estates into the coffee equivalent of the wine country. Over the years, the Gevalia Kona Coffee Cupping Competition arose to define each years's best of the coffee chateaus. Now in its 20th year, the Gevalia Cup has paralleled the growth in demand and appreciation for 100 percent estate-grown Kona coffee.
We go in search of the finest coffee farms in Kona, knowing that we will only scratch the surface of the boutique coffee chateaus of Honaunau, whose histories and owners weave a tapestry of stories.
We visit one of the leading figures in the revival of Kona coffee as it began to take shape in the '70s: Terry Fitzgerald of Da Kine Coffee Bean.
Terry Fitzgerald arrived in Hawaii when many coffee farms were neglected and hippies were changing the character of Honaunau. They came looking for freedom and a liberated lifestyle and found paradise and coffee.
Mr. Fitzgerald was more beatnik than hippie, a successful geophysicist with mining exploration companies in Canada and Australia before abandoning his career to travel the world. In Hawaii, he fit in with the would-be coffee farmers, leased eight acres of overgrown land and began restoring a coffee farm.
The new settlers grew coffee cherry and sold it to the one processor, Superior Coffee, that dominated Kona coffee and set low prices. In the 1980s, people began grasping the concept of an estate-grown, direct-to-consumer boutique coffee industry.
Mr. Fitzgerald has become a bull in estate coffee. I remember our first meeting at his jungle estate: He was raking coffee beans drying on his roof. He lives in what I used to describe as a tree house, but it is more a multilevel structure built into the hillside and around trees, with no back wall. It's open to the elements, with no fixed windows.
His cherry pulper is powered by a truck engine, and the drying decks are the roof of his house. Last year, he produced almost 6,000 pounds of finished coffee, consistently one of the finest in Kona. A Gevalia Cup first-place winner in 1997, Da Kine Coffee Bean is rated at the top by knowledgeable Kona coffee drinkers as much for the coffee as for the karmic joy of the man behind it.