We are building our new home on the new farm. Right after last coffee harvest, we started working on the house foundation, it took us five months to get it ready.
The house site is not a flat spot, we had a backhoe to level it, then we found out that we had to refill some area. We moved many truck loads of rock from other part of farm to the building site.
Our good friend Jerry started building rock wall for the foundation, Terry and I finished at the end. After we poured concrete for foundation, building project goes pretty well. Jerry is a talented carpenter, has lots of building experiences. Just two of them did the beginning of house structure, then we had three more friends helping to put floor sheets on.
Jerry is like a family to me. He is a good cook, when he cooks special food, often he call us to join them, especial during my pregnancy, I had many meals at his house.
One morning they worked on the first side of wall frame, when I got there with some sandwiches at lunch time, they were taking a break and waiting for me. Jerry said that I could help lifting the wall frame before lunch, so I joined them to complete the work. I thought they could do it without me, since there were five men. But Jerry waited for me in purpose at this special moment, so I had the opportunity to be part of the building project symbolically. It means a lot to Terry, Sonny and me, our new house we build together.
I took many pictures to follow the progress of building.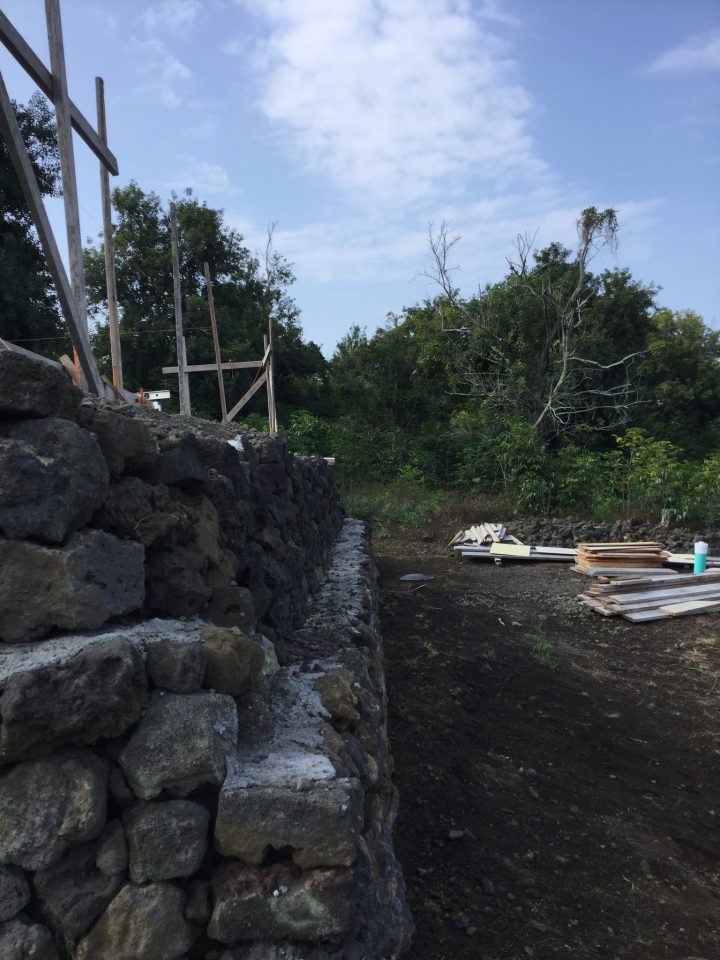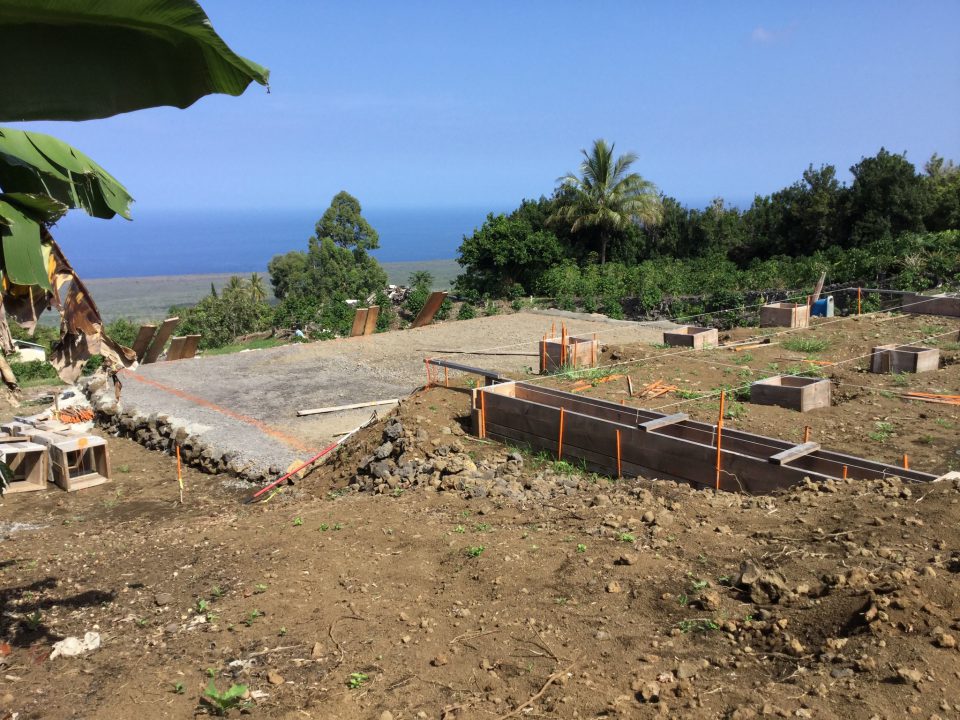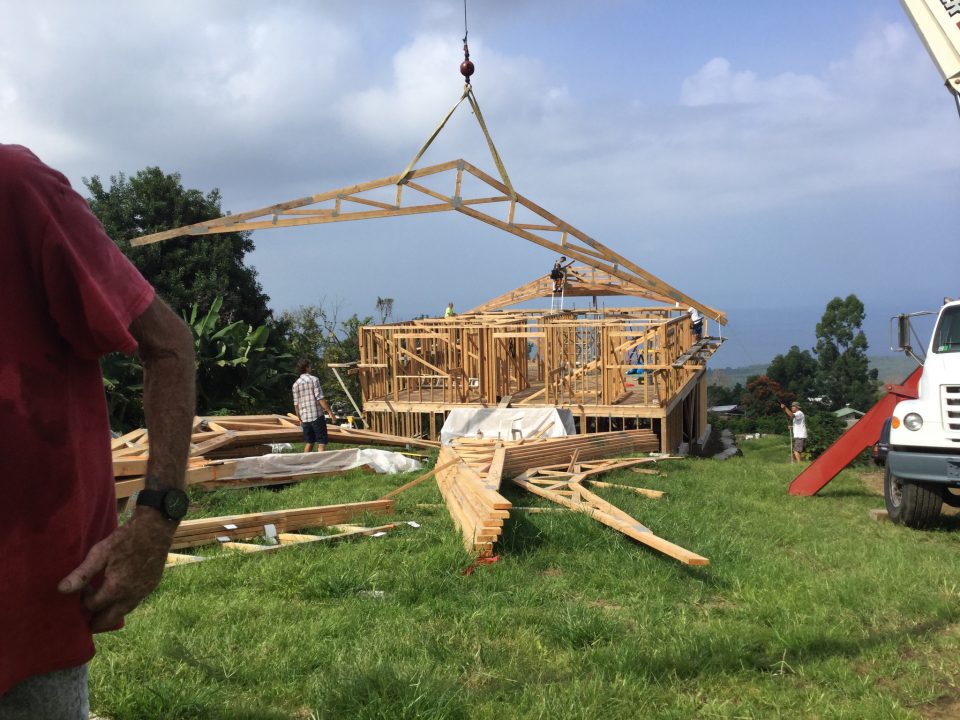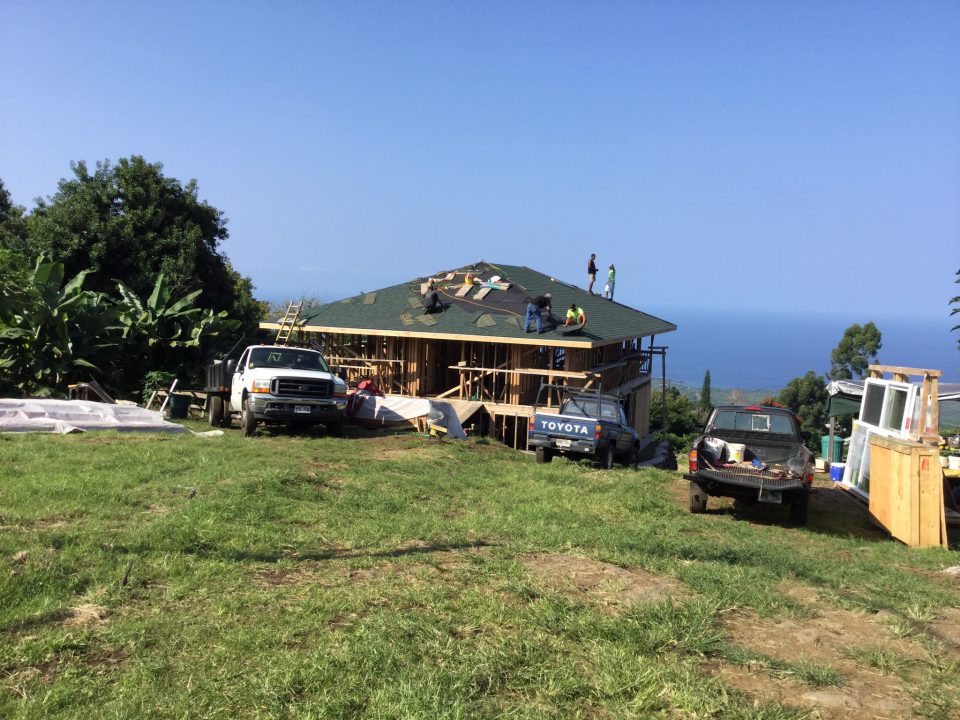 Last month we had trusses delivered, they were so heavy, we had to rent a crane to lift and put on the top. Jerry had some questions, he asked Wayne, his boss who is a contractor, to check it out the materials and plan, before we had crane there.
It was Saturday, Terry took Sonny to his piano lesson, I went to the new farm to pick coffee. There were only about 150 coffee trees, but coffee was getting ripe. Around noon, a man walked up the drive way, he saw me and asked whether this is Terry's farm. Then we introduced each other, he is Wayne. I heard Jerry talked about him before, but had never met him. I looked at his face, couldn't move my eyes away, until I realized my behave was impolite. I couldn't keep my mind quiet anymore, I told him:" You look like my dad a lot, your face, even your hair style."
He laughed, said: " Your dad has a good hair style."
"My dad was a handsome man. Are you Chinese? I'm Chinese." (Look back now, I realize how direct I was, not tactful at all.)
"No, I'm third generation of Japanese in Hawaii. We are all oriental, so we could look alike."
Then I showed him around and the building plan. He grew up in Kona, family have farm land, we talked about farming and other things.
That afternoon, I told Terry that Wayne looks like my dad a lot ( he hadn't met Wayne yet ). I didn't know I would see him again very soon.
Monday was the day to put trusses on, I continued to pick coffee there alone, Wayne came to help because Jerry asked him. He was up on the ladder, securing the center part of trusses, Jerry and David worked on the two ends. While I was picking coffee, a picture occupied my mind; a man who look like my father was helping to put trusses on our new house. That man was not my father, but somehow, the image of my father's figure, working on top of the building, freeze frame at that moment in my mind. I think, in future, whenever I think about building this house, my father's figure will always appear there.
Working as team, they were very efficient, about two hours they put all trusses on. At lunch break, Terry tried to pay him, he refused," I just come to help Jerry, because he helped me many times." After two attempts, Terry didn't insisting anymore, but he happily accepted one pound of dakine coffee.
Terry saw my dad's picture before, he also think that Wayne looks like my dad.
Next day we had some coffee pickers, so I stayed home, picked around the house. Meeting Wayne opened the memory channel of my dad, I hadn't cried for my dad for a long time. But that day I cried without holding back, let my emotion taking over and in charge totally. It's good, I was alone, nobody saw my running tears and heard my crying voice, and nobody disturbed my very private moments. When I stopped crying, my eyes were a little pain, red and puffy, but I felt much better.
Can you imagine? Someone you love and care past away, many years later you meet a stranger  just look like your loving one. Is it suppose only appears in a movie or fiction story? But it happened to me, my emotion was a mixed one. Shocking, happy, loving. At the end, I come back to reality, they are two totally different individuals. Wayne is a kind and generous person, who helped us when we needed it, I could always have special feeling toward him. I'm a very lucky person, this was a gift, the life gave to me.
A couple of days later, it was Chinese Middle Autumn Festival, a family reunion festival. I met my parents in my dream, I led them into the unfinished building, showed them the house plan. They both seem very calm and peaceful, then dad showed me a new brown leather couch cheerfully. I would like to believe, they know everything happening in my life, because I'm still loving them and thinking about them.