This coffee season is over,now we can slow down with farm work, and enjoy our relaxing time in Hawaii.
There were always different stories with each year's crop, picking crew, pruning crew. Doesn't matter what the story was, we always got through harvest season at the end.
We had a small crop this year, 6 picking rounds and most were small. We bought some coffee cherry from our neighbor, an organic farm, we'll be able to offer this new item to our customer. Our picking crew picked the last round right around new year, the upper section of our farm was done. So Terry and I started pruning, Sonny helped dragging branches to road side (he just did two day during his winter break), we hired a man to chop the branches.
Then we waited our picking crew to strip the trees ( picking off all the beans from the tree ); meantime, I found one guy who was willing to do this job, we paid him by the hour. I worked with the man, Terry pruned right after we cleaned out some area. Later on, two pickers came, finished picking the rest of farm.
Terry didn't want to think of pruning the rest of farm by ourselves, he's been doing this for so many years, he is tired of pruning. But I really wanted to do it ourselves, or even by myself. Past few years, whoever we hired to prune seems left too many big old branches behind, some area was so bad, it's very hard to pick.
We hired the same guy to chop, I did the most pruning, Terry did some pruning and some chopping. This Tuesday we finished the job, the whole farm is clean now.
Next, we need to spray BotaniGardES, this is the best and most efficient time to kill CBB. We hired someone to spray past few years, the spray machine was too heavy for both of us, it weight about 60 pounds after fill up the tank. The man came to spray around 10am whenever he had time, but sunny day or rainy day are not good time to spray. It was almost impossible to have the man to spray at perfect weather condition. We didn't have many choices, just glade that someone was doing the job.
From the article of CBB research, the most important thing about spray BotaniGardES is the perfect weather condition. The best time is after 3 or 4pm, cloudy, no rain; before or after coffee flower bloom. It left very small window opportunity to spray, very hard to get someone to do 3,4 hours work at this late time of a day. If we want to get CBB under control, we have to do it ourselves.
Terry bought a smaller size spray machine, the engine weight 12 pounds, the tank can hold about 3 gallon of liquid. I was very enthusiasm of using the sprayer, I wanted get the job done before the coffee flower bloom.
On this Wednesday, Terry loaded up all the materials in the truck, mixed the formulas and hauled to the field as close as could be, filled up the tank for me; I sprayed. He set out CBB traps while I was spraying. It only took 3 minutes the refill the tank,14 tanks I sprayed, and we took 4 hours to cover about half of our farm. Terry asked me to quit a couple of times ( he was worrying about me ), It was dark when we finished, I felt OK, not too bad. Next day, we started a little earlier, quit before getting dark. My shoulders were very sore after 5 tanks, at the end, I let Terry sprayed once so I could take a break. We did two more hours yesterday to finish the job, now we are relived that we did the work at right time. We did our part of work, let the nature do its part to the farm.
Terry already bought fertilizer, unloaded them at several spots in the farm, waiting for next good raining day.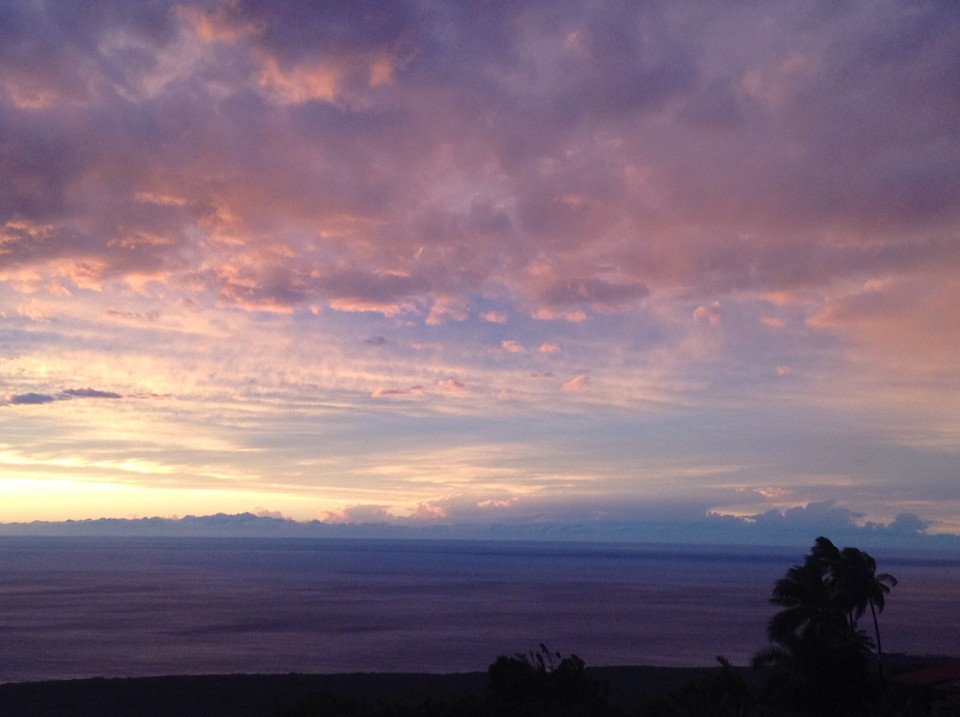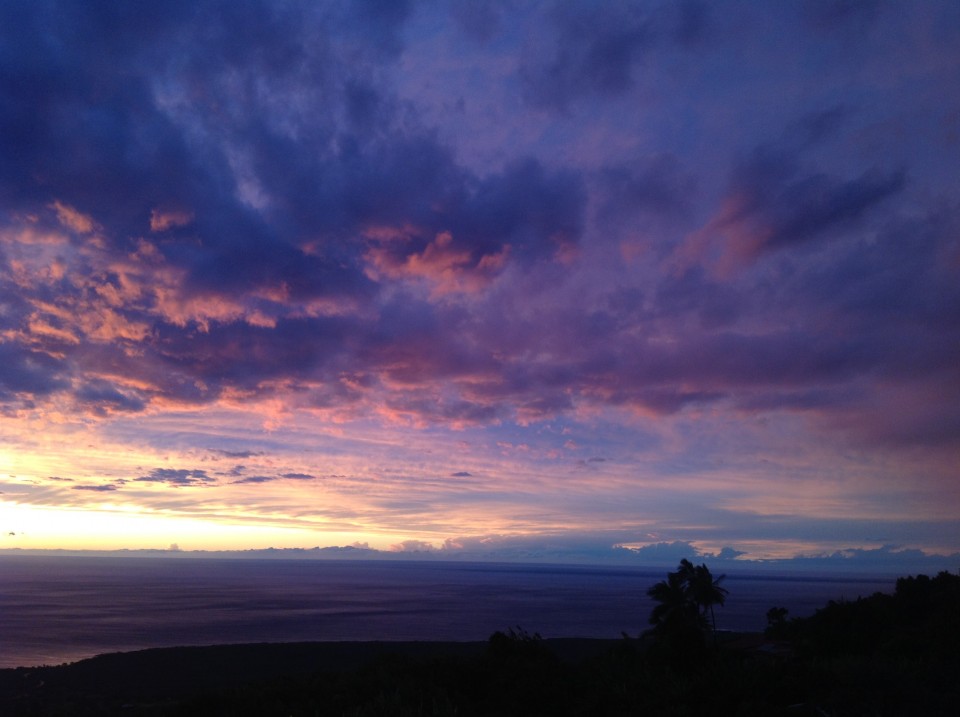 Right after new year, we had a week with stormy windy weather, clouds were  very interesting and beautiful at sun set time, sun light lit on the constant changing clouds, seems brought them to alive. It conducted a silent symphony I couldn't hear, but I saw and felt the power of moving changing force, through the colors the sun light painted on the sky.