We finished 4th round of picking last Thursday. On Friday Terry and I both worked around house, felt satisfied after cleaned the house; on Saturday I made dumplings, a thing always make me happy. We have to work harder at harvesting time, then our off days seems so much sweeter to us.
Rumiko from Japan comes to visit us at coffee season every year. This time we were picking on the day when she visited, she came and started picking right away. She picked an hour with me, and picked all perfect beans.
We planted some pumpkin on the rocky hill side of the new farm, now we have lots of pumpkin to share. I make stir fried with young green pumpkin or ripe one, they both taste very good.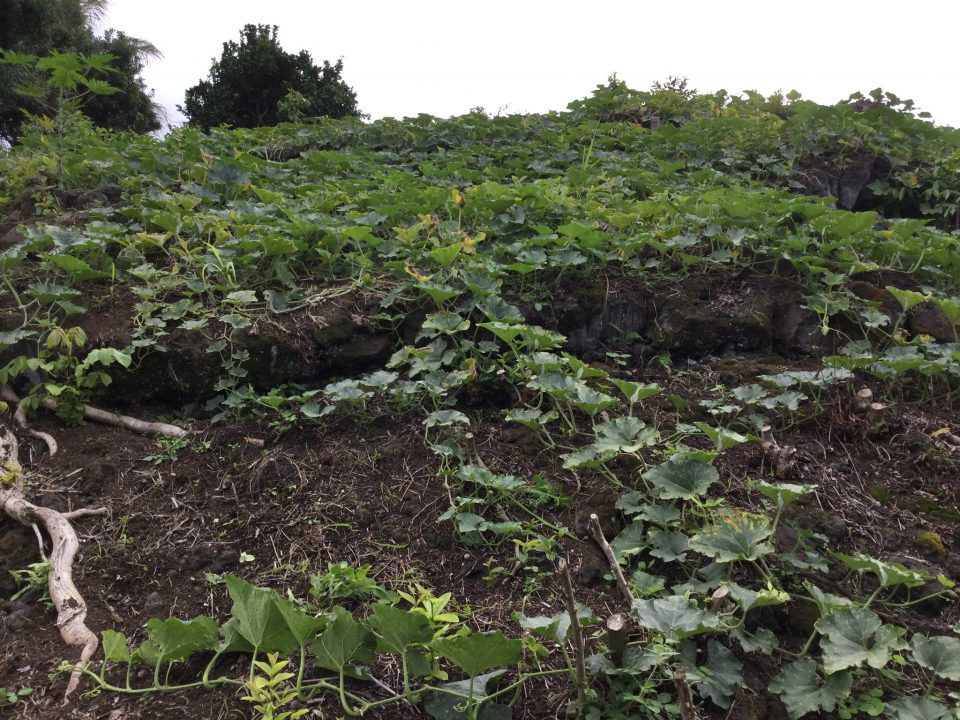 This summer I hardly wrote for our blog, one reason is that we worked very hard to clear the other farm; another reason is that I got sucked into watching Chinese TV series shows. Except working hours, I became a couch potato with iPad. TV hasn't been a big part of my life for years, especially Chinese show, now I have so many options to watch online. I watched the first one which was very popular in China last year, it was a very good show. I got to know some new faces of actors and actress, they are so good, it led me to watch their other shows.
When I watching a show, my mind was totally raped by the story. Most stories were set back in old time, love story was only a small portion of it, but they definitely caught my mind. In these stories, these characters couldn't be together for many reasons even they loved each other. I laughed and cried with these characters when they happy or sad, their love stories are beautiful but they are fiction. It made me thinking about our love story, the real one in our life.
The time which we just met seems so far away, some memories are fading away, I remember one thing, Terry remembers another thing. I wanted refreshing these memory, felt the beginning of our love again, so I read my old diary then Terry's diary.
In his diary, he asked himself every day, why and what was he doing in China? He wasn't looking for a wife. And I wasn't looking for a man, maybe I was waiting for the right person come to me. I am the lucky one, the right person came from far far away place and found me.
I remember a conversation with my girl friends when I was in high school, they thought a woman with 2 divorces had bad reputation. But my opinion was that, if you were not happy with your marriage, why were you stay together? If I had to get married 100 times to find the happy marriage, I would. At that time, I was only 19 but strongly held that opinion. Now I'm older, I realize that a person don't need to get married so many times to find a happy one. You just don't get married with casual decision, marriage is serious thing, a commitment to your life partner. If you want a happy married life, you need to try, even have to through a few marriages.
I told Terry how these Chinese show affected my emotion and thoughts. It rebuild my passion of love, remind me why I fell in love with him. He said that love is not a dead thing, it need to be nurtured and maintained, otherwise it will disappear slowly. Like a river, if you let your love flow, it can go a long way, it might become a bigger river as the love growth. Or if you stop adding more love into it, it become smaller and weaker, eventually it will dry out. We talked about our old times, how we felt about each other at that time, our favorite restaurants and noodle shops while we traveled together. We plan to revisit some places with Sonny next time in China, a nice dream we can looking forward in future.
Tomorrow is Thanksgiving Day, but I hold great gratitude every day for all the people in my life.
Happy Thanksgiving!