Coffee season is here again, we are struggling with lack of coffee pickers as usual. Kathy is the only one who committed to pick coffee with me. Christi has several farms to work on, couldn't come to help this year.
We started our first round of picking in August, when two pickers who picked for us before showed up, and asked to pick coffee. I picked with them, took us 7 days to finish the first round.
We picked the second round in September, Kathy was back from her trip, I got in contact with Juan, whose parents helped us for years as long as they had time, his parents went back to Mexico as their visa expired this year. Juan said that his uncle and he would try to help us even they have regular job, and bring more pickers when they can find. So it only took 4 days for second round of picking, there were 10 pickers for 2 days.
The third round, coffee beans came ripe so fast, it was a big round, we couldn't keep up with it. Luckily Juan and his uncle came most of picking days, they can pick twice as much as we do. Just had these two men picking in the farm, I imaged there were 3 Kathy and 3 Susan picking coffee. Kathy laughed at my imagination. We finished this round last Sunday morning, it took us 16 days, and we've got half of our crop already.
Compare with last year's weather at this time, it seems we had more rain this year. Too wet, ripe coffee bean can't hang on the tree very well. I always gently pick from lower part, pick around the tree, then bend the tree; otherwise, too many beans end up on the ground. Kathy worked so hard, she inspired me to work hard too; even when it was raining, we wore raincoats picking in the rain. Some good weather afternoons, we picked until it's dark.
I bought iPod before coffee season, I enjoyed it when I worked in the farm, music or podcast. One day, we listened to TED TALK on the way home from beach. It was talking about a few minutes of silence in our daily life is very important. I agree with it. Sometimes I couldn't stand any music or podcast, turn off my device was the only way to calm me down. So most of my picking days, I didn't carry iPod with me. I found this was the first time I enjoyed my quiet picking time, peace in my heart, one day went by very fast. At the end of the day, I didn't even feel tired, except the joints of my hands felt sore. I didn't even worry about losing some coffee on the ground, because we couldn't picking fast enough. What I cared about was that, we are trying our best to bring as much coffee as possible to drying deck from the field. I didn't stress out for some coffee beans on the ground, not in my basket.
We even had Sonny picking with us at his fall break, 5 days, about 200 pounds. He made some money, bought a book for himself.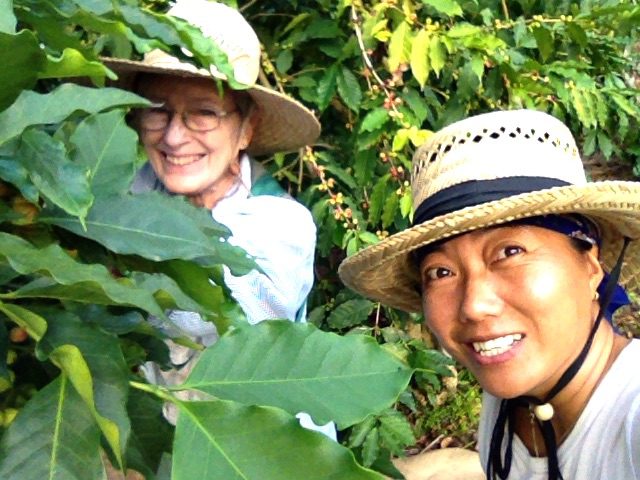 Kathy and Susan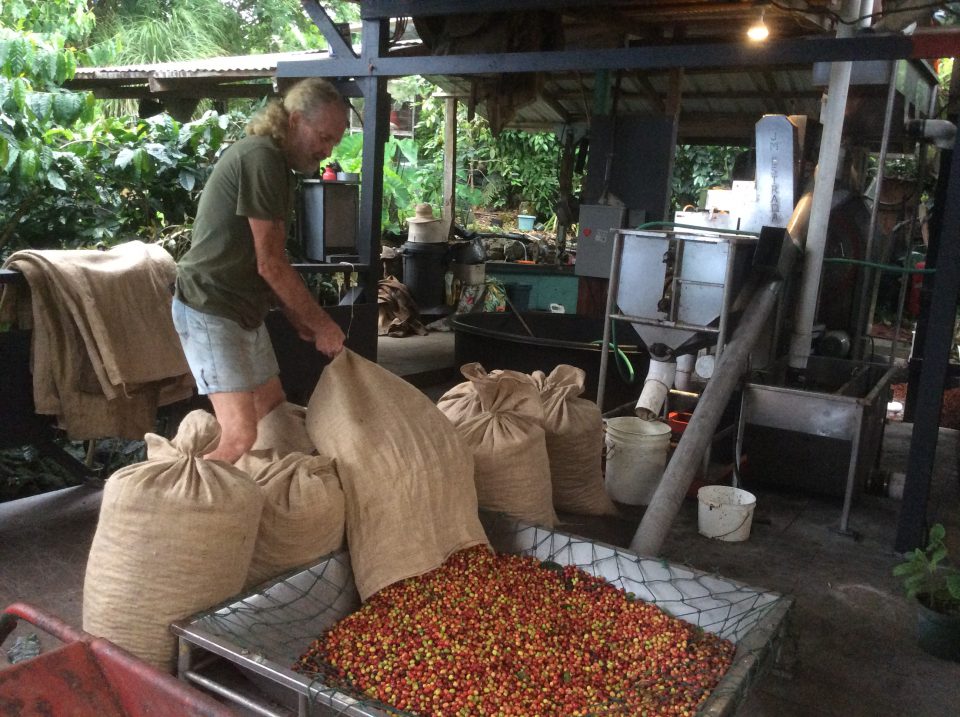 Terry