April 8th, a tragedy happened. It took our good friend Jerry's life. It happened so suddenly, we still couldn't believe it.
Since last July, Jerry had started helping to build our house, from foundation to building structures, roof trusses, walls, windows, doors, porch rails, dry walls, slowly he worked himself out of this project. He was in charge of building this house. Terry was his assistant and did odds and ends. Later David and John joined the building team. Last thing he did was putting up rails for the front porch, I painted it right after he finished the job.
We were still busy with small jobs every day between building and farming, we hadn't seen Jerry and Machiko for a month, it's not normal. They are our good friends, I felt guilty for not visiting them for so long. April 3rd, it was Tuesday, I collected some avocados for them and stopped at their house for a short visit before I went to work. They were home, both of them seems very happy. I knew Machiko must be very happy to have him staying home for a change, otherwise she was home alone. Even Jerry complained about getting tired without work, but I knew he was very happy at that moment. I told them that Terry and I would visit them again at weekend. I hugged them, said "I love you". By visiting them, it gave me some satisfaction, I got rid of the guilt feeling inside of me.
Sunday morning, we went to beach. When we backed home, showered, had lunch, it was four o'clock. Usually Terry likes to take a nap at this time. I suggested to visit Jerry and Machiko, he said " Better now, or too late for me." Sonny asked how long we were going to visit them, I told him about an hour and a half.
When we got to their house, they were playing with a puzzle under a tent in backyard, and the TV was on as usual. Their kitchen and dining table are. outdoor. This is where we hang out when we visit. We sat around, drinking and smoking, talking stories, commenting on TV shows. Jerry had a white T-shirt on. He was very healthy and happy, still very strong for his age. He was getting tired of construction jobs, he wanted to buy a used fishing boat with his son, and start fishing again. Machiko has diabetes and only can have fish and chicken, no more beef and pork. Even though we live in Hawaii, fresh fish is still expensive. That might be one of the reason he wanted to fishing again, after all he was a fisherman before.
It was one of our usual visit, no big discussion, just happy to be together. Before we left, we hugged each other, said "I love you" to each other.
It was 5:30pm when we got home.
Next day we went to work, until afternoon back home, found there was a message from Machiko, said call her back. I called her cellphone, no answer, called Jerry's cellphone, no answer.
Tuesday morning, I got a call from Machiko, she said Jerry is dead, and she was crying. This shocking news seems unreal, l couldn't believe it, no sad feeling, no tears from me even she was crying on the other end. I told her I would see her right a way. Terry was roasting coffee, I told him this shocking news, he couldn't believe it.
I had a few minutes digesting this terrible news while I drove to her house. As I walked into her house, saw her, we hugged and cried into each other's arms. She had Jerry's unwashed pajama shirt wrapping around her shoulders, trying to keep his scent around her. She told me that an accident happened after we left their house on Sunday, he died at 6:35pm. We still couldn't believe he is dead. A couple of Jerry's kids from the mainland would arrive around noon that day. She asked me whether I liked to view his body before cremation. I told her that I don't mind to see his body, but I know Terry doesn't want to do it. He doesn't want to see his friend's dead body, he wants to keep the memory of the alive friend.
The only dead body I've seen was my father's, I didn't get a chance to see my mother's. Jerry is like a family to me, I should go to see his body with his family. Wednesday morning, I went to his home, told Machiko that I would like to go with them to view his body. She told me, after family's discussions, they decided not to view his body. Because they all agree, Jerry wouldn't want his families and friends to see him like that, he would rather have everyone remember the very alive him.
Jerry was one of the first people I met after I moved to Hawaii. He was a very good man, but not a person you want to mess around with. He was a good cook, he liked to feed people, and was always happy to see friends enjoy the food he cooked. Friday evening was our regular social time at his basement. we would see other friends, Damien and Tita, Kimo and Marilyn, Craig and Masumi there. We had picnics at Kei'e beach; drove over an hour to Waimea for a lunch; went to other side of island for a chicken fight; and many parties together. If we were away for vacation, he and Machiko would house sit for us. Through those friends, I understand the true meaning of Aloha, and Jerry had a big heart of Aloha.
At coffee season, Jerry, Machiko, Damien, Kimo were our reliable coffee pickers, Tita and Marilyn helped picking on their off days of work. Working with them, every day like a party day, we had lots of good times. About ten years ago, Jerry had more and more construction work, so he stopped picking coffee.
All of my family members are in China, Terry's families are in the mainland or Canada. A friend told me once, that we couldn't choose our blood related families, but we could choose our friends, and our friends are our chosen family members. Jerry was one of our family members we chose.
There is one thing I don't regret is, I always told him "I love you". He called me his little sister and loved me too. Before the accident, he said our house would be the last one he built. We even talked about house warming party, and he was going to make a imu for the party. It happened so suddenly, I had a hard time to believe it. Every time I drove on our road, all of the green trees and plants in my eyes, warm and bright sky over my head, blue ocean and  coast lines in distance, I just couldn't believe Jerry is not here with us anymore. How come this beautiful paradise stays the same without our loving friend. Yes, the world won't change a bit because one person's death, but our hearts are experiencing the pain of losing a friend, like someone punched a hole in our heart, a hollow space appears where the friend occupied. Only time will mend the hollow parts slowly with the threads of loving memories we have.
Jerry's family decided having a party to celebrate his life on June 17th. Terry, Sonny and I went to Toronto for ten days, came back on 15th.
We were so close to Jerry, I had kept hoping to see him in my dream since the accident, but the dream didn't come to me as soon as I hoped. On June 16th, I saw him in my dream.
As usual, Terry and I were visiting them. Jerry just came back from work, he parked his truck in the back yard. He wore a white T-shirt and a pair of blue jean shorts. He walked toward us. He was very calm and peaceful, he knew we were preparing a party for him, and this was the last day of his life and he accepted it. We didn't speak to each other, we communicated with each other without words, we read each other's mind.

Then the scene changed, I saw a lake in front of me. A whirlpool appeared in the middle of the lake, and it started draining the water. Slowly the water of the lake became shallow, I could see some fish swimming, then I saw a big long fish's back, rest of the body under the water. Water became less and less, finally I saw, it wasn't a big fish, it was a Chinese dragon, it disappeared into the whirlpool.
After that dream, I felt something was lifted from my heart. Unconsciously I had resisted to accept the fact that he is dead, I had hold on to the memories of him tightly, so tight it almost crushed my own heart.  Only in that dream, Jerry showed me that he accepted it, I should accept it too. Now I'm holding the memories of him very gently in my heart, love is the memory of him.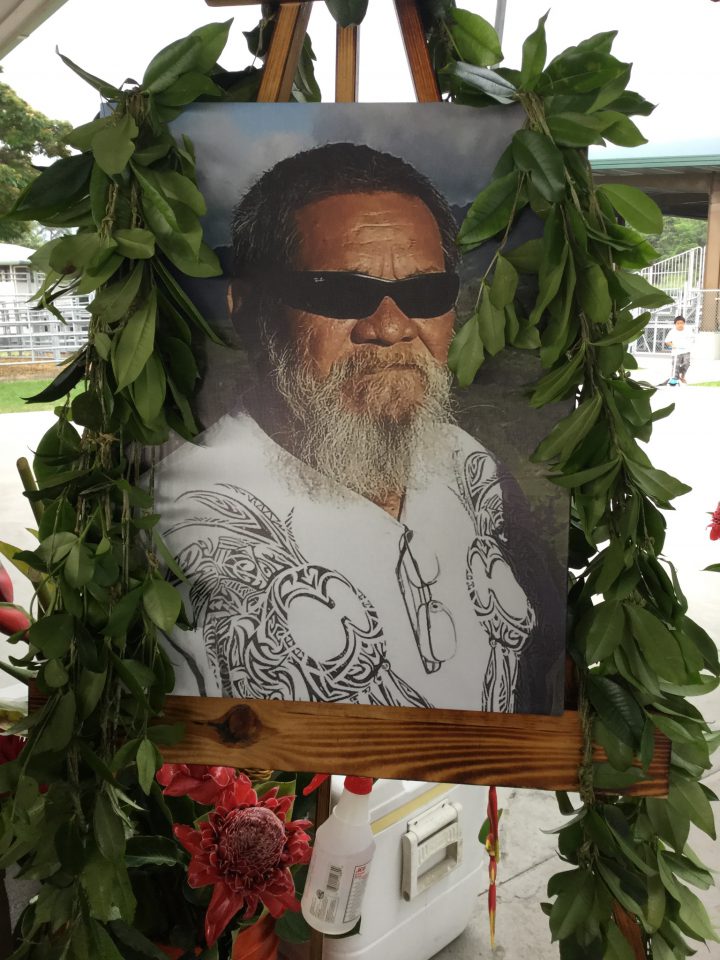 June 17th, Father's Day, it was a beautiful day. We had cloudy and rainy days for a while before that party, but that day was sunny with blue sky, had a gentle misty shower for a short time, and a rainbow appeared in the sky. There were lots of yummy food, just like the way Jerry would have done if he hosted the party. His daughter wrote the poem below.
From our picture files, I only found a couple of his pictures. We saw each other so often, who would think of taking some pictures. The image below is what I will remember of him.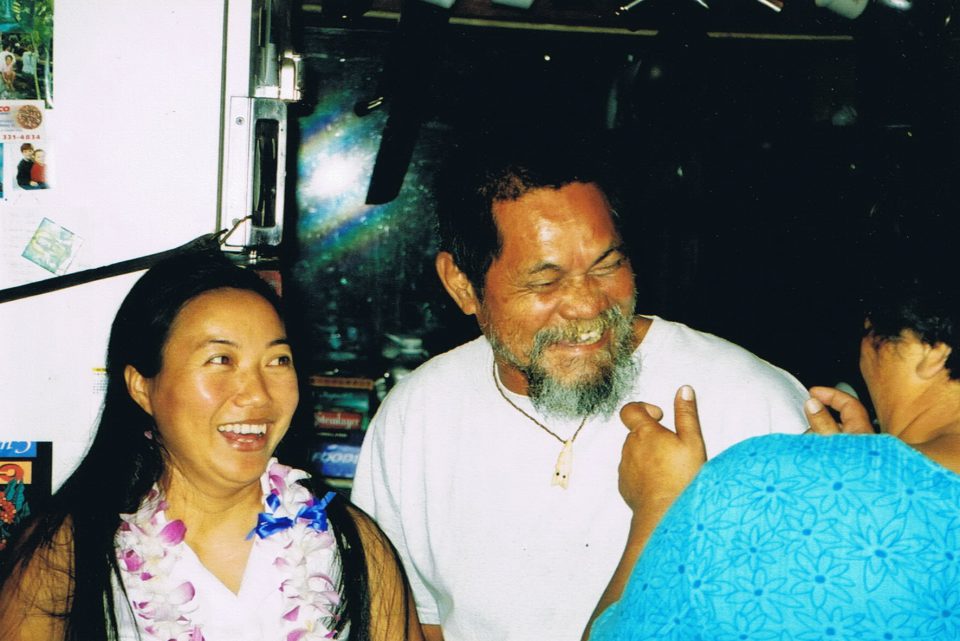 When I come to the end of the horizon
And enter the other shore
Remember me with fondness,
Cry for me no more,
I have found my final resting place
That special spot to fish
Remember the times that we shared
You too I will miss
This is the journey I must take,
And I must go alone
Know that my heart is with you
As I take this journey home,
To that final fishing hole
For fishermen like me
To tell the biggest fishing tales
About the one that got away
Remember me with fondness
For this is not goodbye
It is "Till we meet Again "
At that big fishing hole in the sky