Kathy helped me picking the last round of coffee. Terry and I worked together  pruning, some coffee stumps are old and tall, don't have very healthy branches. I pruned with a hand saw, when I saw  a coffee stump needed to be trimmed, I tied a ribbon on the tree; Terry trimmed the tree with chainsaw. It took us 3 weeks to finish the job. At that time, our friend Ann and Brad were having their vacation in Kona from Canada, they came to help us dragging coffee branches and piled on road side.
We had Scott to help us chiping the branches. First day, it took some times to get the chipper working, it ended up just Terry and me, we did three hours work. When we fed the chipper branches, we needed to hold the branches and gave a little push. The vibration wore out Terry's wrists very soon, I fed the chipper a little more at the end. Second day, Terry dragged branches close to the machine, Scott and I fed the machine. We worked five hours to finish the job. I thought the machine works better than last year, our friend David fixed our machine last year.
Now I can really say, coffee harvest season is over, it sure make me feel good about it, even there are other farm works waiting for us.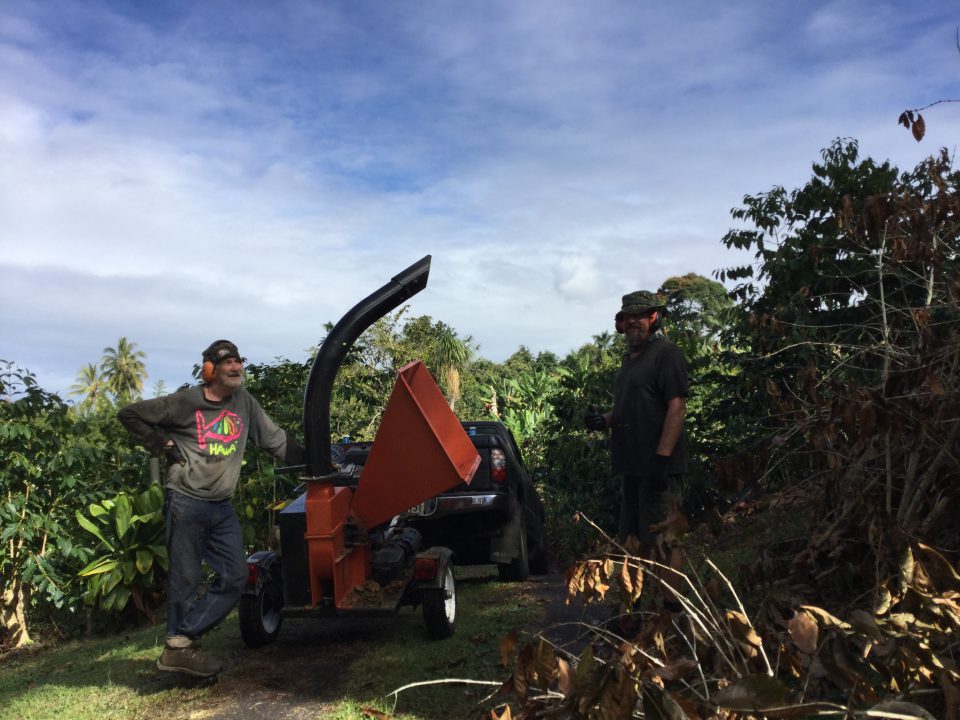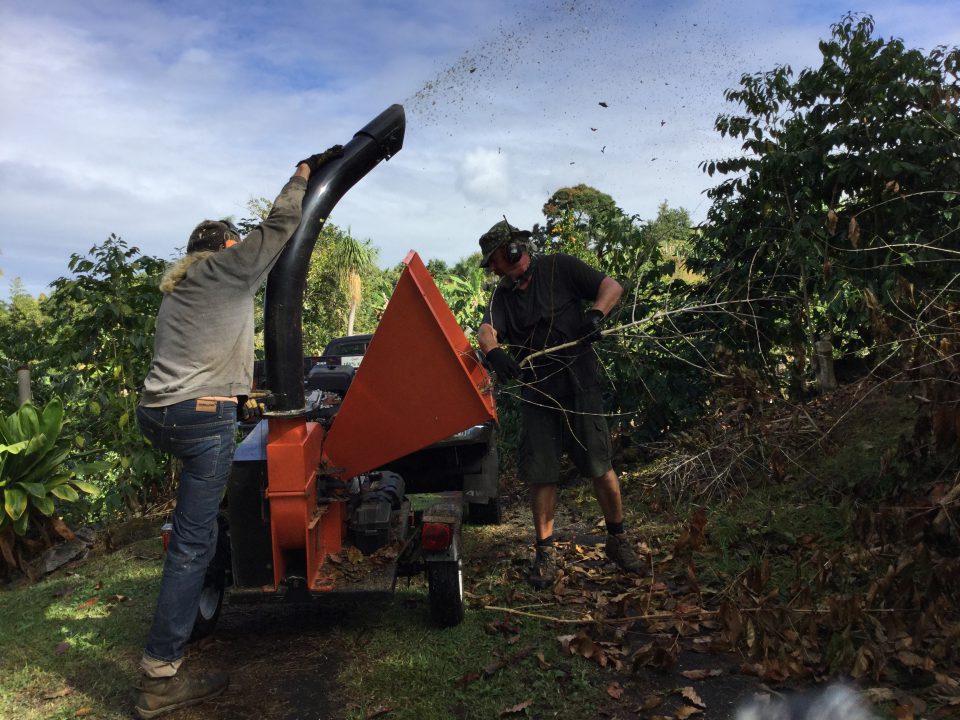 I hadn't visited our other land when I was busy picking coffee, Terry worked on the land often. He worked very hard, but it made him very happy and satisfied with his complishment at the end of the day.
Our pumpkin patch produced lots of pumpkins, we tried to give away, but the circle of our friends is not big enough to use it all. I asked Terry to build a small food stand, set it up by the road, offer free pumpkins to whoever want it. He didn't build the stand right way. He picked 11 pumpkins and left by the road, next day he found they all gone. We both were happy someone can use it. I asked him to build a food stand again, in that way, pumpkins are in the shade and out of rain. A couple of days later, he made one. I know he had to find a right day and in the mood to do it.
Every time we left some pumpkins on the stand, it won't take very long, pumpkins got picked up one by one. A few times, Bill,  who lives on the hill and knows Terry, left some nice ginger from his farm on the stand. We took some and enjoyed it very much.
Why are we doing this? Because we have more than we need, sharing make us happy, giving is our first step to be genorus, be accepted by other is the step  to build and make us a better person. So when you accept someone's sincere and kind offer, you are making that person to be a better and happier person. So I think that giving is a good move, but accepting complish the mission of giving. Giving without asking for return, is the true meaning of giving; returning without be asked, is a good surprise. That is how we felt about Bill's ginger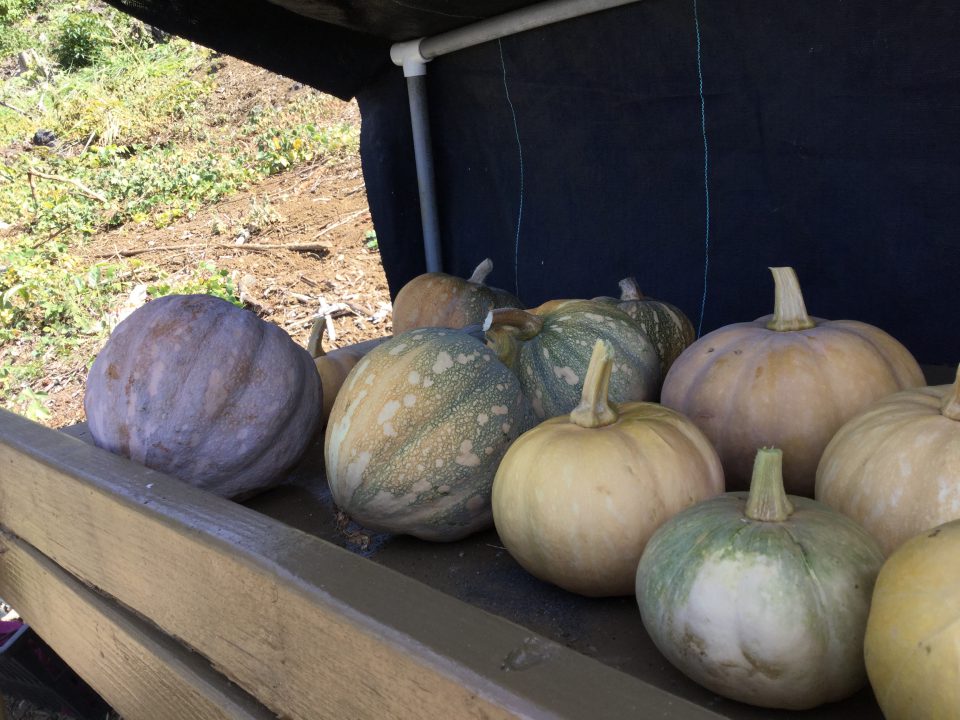 Every married couple develop their own way to understand each other and get along. I made a rule for myself. If I want Terry to do something, asking  or mention three times is the limit number to me. Because he is a hard working person, I rather  let him taking his time and find the right mood to do it, than keeping remind him. Sometimes my idea wasn't appealing to him, he would give me other way to approach, or just refuse to do it. "Yes, dear" is the magic words to a good marriage, but NO is a powerful word too, we all need to learn to use it sometime, even to the one we love. Because we love each other, I don't want him forcing himself to do a thing, just to please me; I rather want him be true to his feeling. If he is happy with himself, he can bring happiness to me and make me happy too. If I couldn't do it by myself, I just gave up, otherwise I tried to do it myself. I made a small tin roof shad by the garden, two barrows to catch rain water, so funky, but works for me. Often I fixed up our chicken coop too.
there is never ending of learning in our life time. I was't a much of cook before I married, now I'm a good enough cook for Terry and Sonny. I had never killed a chicken before I married. In my family, my mom and I were the only two people couldn't kill a chicken. One Chinese New Year Eve, only mom and I at home, we both felt helpless and had our New Year's Eve dinner without a dish of chicken. Now we raise chicken, I learned to kill and butch a chicken from my sisters.
One year, we caught wild pigs in the trap frequently, one pig a week. Our friend Jerry killed the pig and butched it, it was a quite of work, he was getting tired to do it. I would like to learn to butch a pig, so I asked Jerry to teach me next time we catch a pig again. He would teach me, and Terry hung a long strong rope in garage for that purpose, but we haven't caught any pig since then. Well, there are so many things out there in the world we could learn, and it's impossible to learn it all, I'll try to learn the things come to my way, interesting to me or necessary to me.